The sold-out show by comedy titans Dave Chappelle and Chris Rock on Sunday night at Enterprise Center left an indelible mark on St. Louis, but it wasn't a laughing matter for everyone.
For Tad Berry of Kirkwood, it was a big, fun family night out — until it wasn't.
By the end of the evening, all he felt was "frustration — pure frustration." He went into the show expecting a certain level of chaos, but he got much more.
"My circumstances didn't allow me to enjoy the show at all," says Berry, a tax consultant.
NewsTalkSTL radio personality Julia Gordon-Bramer says the evening was a fiasco. "I felt duped. I felt like the whole night was sort of a trick."
Mark Jefferson, a personal trainer from St. Louis, says he has heard complaints from fellow fans, but he thought the show was great.
The co-headlining show, announced in early January and produced by Live Nation, came as a surprise and was considered a great get for St. Louis.
It was Chappelle's first show here since a sold-out, four-night residency at the Pageant in 2014. Rock performed two sold-out shows in June at the Stifel Theatre.
So what happened Sunday — aside from the comedians' edgy, insightful and profane material that included Rock addressing the famous Will Smith slap and Chappelle dragging a certain St. Louis music icon?
For starters, audience members' phones and smartwatches were locked inside pouches after their tickets were scanned. Patrons kept the pouches with them and could access their devices in designated areas on the concourse levels.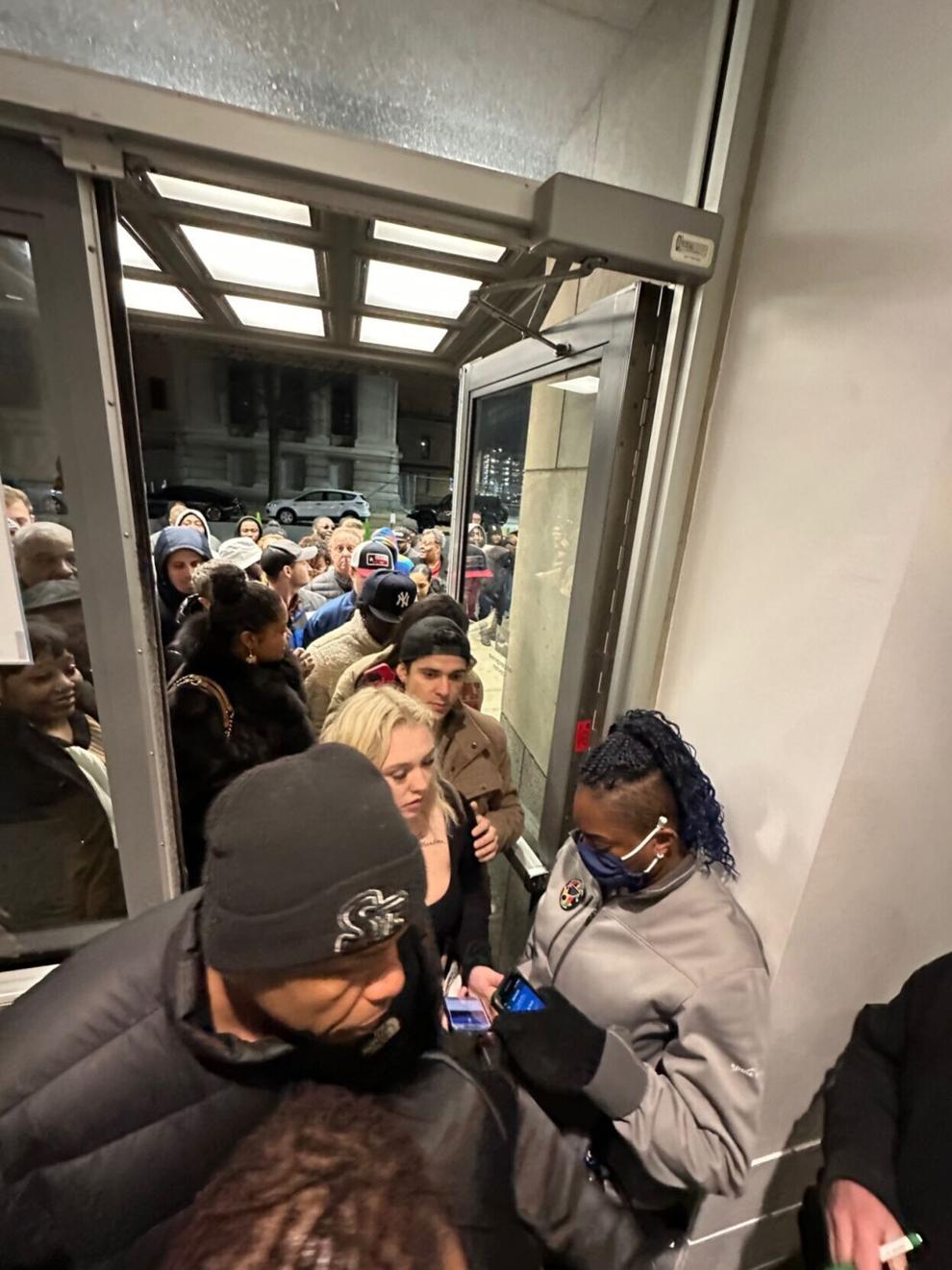 It's an increasingly common practice at comedy shows especially but also at some concerts. Comedians don't want their material filmed and shared publicly, thus spoiling their jokes.
Rock's shows last year at Stifel Theater, as well as Kevin Hart's 2022 show at Enterprise Center and Louis CK's show this month at the Factory, were all phone-free experiences.
Since patrons could not access their electronic tickets, staff members manually wrote down seat locations for them. Lines for entry stretched for up to three blocks outside the venue, and there were three separate entry points, as usual.
The show started late. DJ Trauma spun hip-hop beats before opening acts Donnell Rawlings and Rick Ingram performed 15-minute sets, followed by an hour-plus set from Rock. (It's believed he went longer than planned.) DJ Trauma and a second set from Ingram came next, in what looked like obvious stalling, before Chappelle took the stage just after 11 pm.
Towards the end of his set, Chappelle explained that a mechanical problem with his plane caused his delay, and for a while he wasn't even sure the show would happen. He wrapped up his set around midnight.
After the show, patrons had to find employees outside to deactivate the phone pouches. Some patrons took the pouches home and cut their phones out themselves.
Berry and his family arrived at 7 pm for the 7:30 show and waited in line for 40 minutes.
"I had a babysitter," he says. "I had to go to the phone area a couple of times and tell her this was running late. The biggest frustration was that it wasn't communicated that the show was going to start late and run as late as it did. If they told us earlier it had been delayed, I could have worked with it to some extent."
Berry and his family ended up leaving the show within a few minutes of Chappelle taking the stage.
He reached out to Ticketmaster and requested a partial refund, since he paid to see two headliners and only saw one. Ticketmaster's response, he says, was that the event took place, so no refund.
"I'd appreciate a partial refund," he says. "That was unfair to do that to us."
Representatives from Enterprise Center and Live Nation have not responded to requests for comment.
Gordon-Bramer, of NewsTalkSTL, arrived at 6:45 pm and says entering the venue "was kind of scary. It wasn't really a line. It was a mob."
She acknowledges the worker shortages seen everywhere and says that seemed to be the case at Enterprise Center. She says she also saw patrons cutting in line.
"I think Dave is a genius," she says. "I would have loved to have seen him. But we live in the county. It's a drive. It takes time to get home. We did feel tricked." She left the show early during Chappelle's set.
Other audience members reported more enjoyable experiences.
Aside from some repeated material from Rock's 2022 shows at Stifel Theatre, Raqelle Wallace says she loved the show. Her entry was relatively easy, and she learned from a concessions worker late in the evening that Chappelle hadn't arrived yet, so she was prepared for the delay.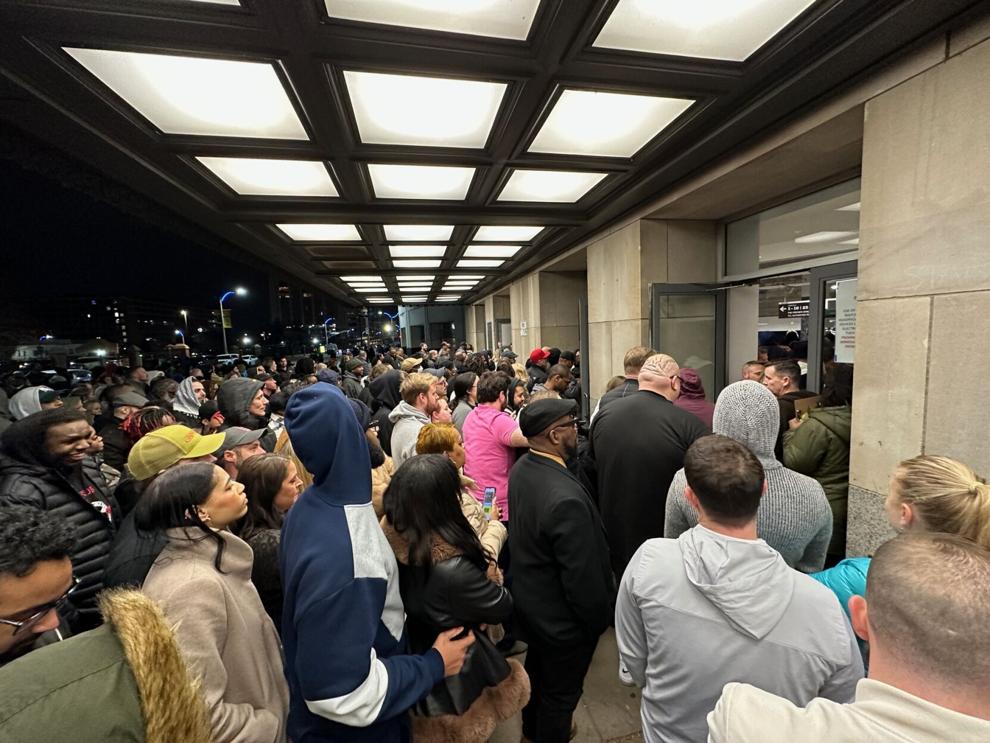 Sharee "Mocha Latte" Galvin, a community advocate in St. Louis, says it was a great show. But seeing the crowd of people outside the venue waiting to get in was "anxiety provoking and stressful."
When she arrived at 7:10 pm, "there were lines like I've never seen before on both sides of the building and the middle of the street," she says. "It was scary, actually. I was thinking, 'I just hope nothing happens.' I felt they needed more staff.
She also says patrons were getting in without their phones being locked up. Chappelle explained why he was late.
"I'm glad they didn't tell us earlier in the evening," she says. "It would have caused chaos."
But at the end of the night, Galvin says, she felt nothing but confusion.
"I felt like we were put out of the building to find somebody who could deactivate the (phone pouches)," she says. "They didn't have on bright clothing or anything."
Jefferson, the personal trainer, says he saw only three or four staffers deactivating pouches outside after the show.
"They were getting swarmed," he says. "There should be a (master) button where it can be unlocked."
Overall, he says, he had a good time, and the comedy was both funny and cringey.
"I got what I came for," he says.
Saw @DaveChappelle and @chrisrock def worth standing outside for 45 mins in pencil heels to see. I appreciate Dave apologizing for being late although I didn't care. My husband's birthday is complete and seeing these two in person was a dream.

— Just a Black Woman Living (@J4dedBlu) January 23, 2023
Felt duped by @Enterprise_Cntr #STL last night. Waited in cold hour+ due to phone check, ppl cutting lines. 3 openers. #ChrisRock didn't go on til 9:30 (fantastic) #DaveChappelle took stage at 11:05 on a Sunday night! Fighting broke out in my section, cops came. Huge distraction 1/2

— Julia Gordon-Bramer (@JGordonBramer) January 23, 2023
I'm channeling my inner Karen a bit but saw Dave Chappelle & Chris Rock last night and left very disappointed.

Here's why 📺⬇️https://t.co/wKzqKwLExe pic.twitter.com/R6dQ0oT9mY

— Charlie Marlow (@CharlieMarlow_) January 23, 2023
despite they had to take my phone. The Dave Chappelle and Chris Rock was cool!

— MK$ 🇸🇳 (@mariemeee___) January 24, 2023
Best comedy show ever last night. Chris Rock & Dave Chappelle 😤Had to wait about 45 min in line to get in, but I loved the idea of ​​it being phone-free!! Two of my fav comedians and they brought Ashy Larry to open up. I was rollin lol. Glad they came to the city pic.twitter.com/Os2a1Uh9hk

— Marshal (@Saukboy02) January 22, 2023
I went to Chappelle and Chris rock tonight. It was supposed to end at 1030. Dave Chappelle didn't get to the arena until 11pm. Tomorrow is gonna be rough. The show was kinda funny but pretty cringe. Not worth being out till 1230 on a work night.

— Parody Snackapova (@snackquille) January 23, 2023
The Dave Chappelle and Chris Rock show was a good ass time.. was more than worth it

— Metal 3 (@IIIRufusIII) January 23, 2023
.